---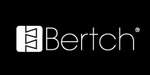 Bertch Cabinets
Nestled in the heart of the Midwest, Bertch Cabinet Mfg. has been reviving the cherished art of traditional cabinetmaking for over 40 years. All products reflect a commitment to reforestation, recycling and a general respect for the environment. Utilizing only the finest wood, furniture joints and exceptional finishes to create distinct products for the home.
Want more information on Bertch Cabinets? We can help.
Fill out the form below and we'll get in touch. The fields marked with, *, are required.