About
See our feature in The Metropolitan Builder!
Scholl Family – 6 Generations in the Lumber Business
Heinrich Scholl, Sr. (? – 1845) was a furniture maker for King Frederick William III of Prussia in the old German Empire. He and his family immigrated to the United States in 1845 and landed in Indianola, Texas. After he drowned in a duck hunting accident, his family settled in New Braunfels, Texas.
First Generation - Heinrich Martin Scholl, Jr. (1828 – 1909) and his brother Adam started the Scholl Family in the lumber business when they set up a shop behind their home in New Braunfels, Texas. Their company sold lumber as well as manufactured cabinets, window sashes, doors and furniture. Heinrich became a well-known early Texas Furniture Craftsman. Some of his work can be seen at the New Braunfels Heritage Museum. His house on Comal Avenue is recognized by the Texas Historical Commission and still owned by his descendants.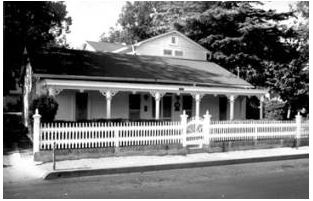 Second Generation – Heinrich Valtine Scholl (1863 – 1931) was the manager of a lumber company in Kerrville, Texas called Frank J. Beitel Lumber Company. They were dealers in Lumber, Doors, Sashes, Blinds and Cedar.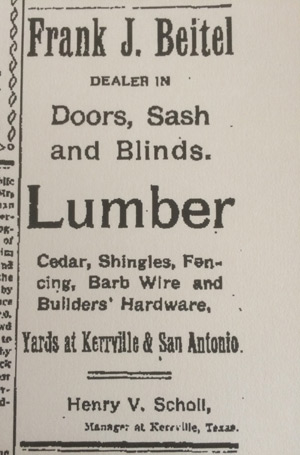 Third Generation - Henry Frederick Scholl (1889 – 1955) owned a company called H.F. Scholl Lumber Sales and sold lumber to contractors, lumber yards and industrial accounts in San Antonio. He also owned a Texas Mountain Cedar mill which cut hill country cedar and sold fence posts to the King Ranch and other agricultural accounts. The contractors who built the causeways from Corpus Christi to Port Aransas purchased material from him. The old Causeways are gone but the posts they were built on can still be seen sticking out of the water next to the existing highways.
Fourth Generation - Jackson Hamilton Scholl (1913 – 1994) founded Jack H Scholl Wholesale Lumber & Shingles in Corpus Christi in the 1930′s. His brother Jimmie Scholl owned Olmos Lumber Company in San Antonio. Jack H Scholl Lumber was a wholesale lumber company that sold to retail lumber yards. They purchased ship and barge loads of lumber from British Columbia which were shipped to the Port of Corpus Christi via the Panama Canal and distributed product from his lumber yard. The Wherry and Capehart Military Family Housing program built 250,000 family housing units between 1950-1964. He furnished materials from many of those projects including Fort Hood, Fort Bliss, Lackland Air Force Base, Corpus Christi Naval Air Base and Orlando Air Force Base. He was drafted into the Navy during World War II, but was decommissioned when the Military realized he was the only person capable of supplying all the lumber required to build the military bases and housing that was so desperately needed during the war.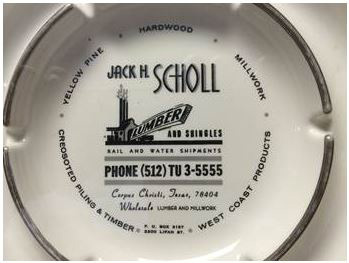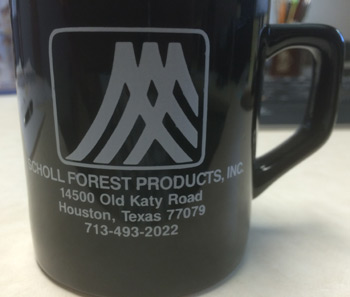 Fifth Generation - Jack W Scholl (1939 - ) joined his father in business in the 1960's and the company name was changed to Scholl Lumber Company. He started his career selling to retail lumber yards. In 1968 he started selling to Multifamily Contractors. In the early 1970's Scholl Lumber opened a branch in Houston on Interstate 10 and Highway 6. This yard was used to transload lumber from railcars to trucks for delivery to the many apartment projects being built during the booming Houston economy of the 1970's. He eventually purchased the Houston location from his father in 1976 and changed the name to Scholl Forest Products. The Houston housing boom continued and Scholl Forest began selling to local home builders in 1980. The Houston housing boom crashed in the early 1980's when the Savings & Loan Scandal started the 1980's Recession. Fortunately, the Multifamily business continued to thrive in other parts of the country. The Multifamily Division and Single Family Division were divided into two separate companies…Scholl Forest Products sold to local Home Builders and Scholl Forest Industries sold to Multifamily Contractors nationwide. The two companies merged in 1990 as Scholl Forest Industries.

Sixth Generation – Ward Scholl (1965 - ) started working at Scholl Forest as a college student in the summer of 1985. He worked as an order puller, truck driver and dispatcher. The Houston economy was still trying to recover from the 1980's recession. Scholl Forest was one of the few lumber yards that survived, so they were in a unique position as the economy began to improve in the late 1980's. The Katy Freeway expansion forced the company to move in 1995 to a much larger, more modern facility on Pine Vista Lane in Northwest Houston. The local housing market and multifamily markets continued to improve and the new facility, competitive pricing and great customer service enabled Scholl Forest to grow and become an industry leader. In 2001, Ward Scholl and siblings, Kim White and Cindy Segrest, purchased the company from their father. Scholl Forest began manufacturing floor trusses for custom home builders in 2003. In 2005, Scholl Truss & Component Company (STACC) opened on a 19 acres facility catering to multifamily contractors and custom home builders. The housing market peaked in 2006 and the company experienced growth and sales beyond imagination. The Great Recession forced the entire home building industry to downsize their operations in 2009. Scholl Forest sold the Pine Vista Lane lumber facility, closed STACC and moved the lumber yard to a portion of the former STACC property in 2011. In 2014, SFI became a member of the LMC Co-op, a 365 member buying group that has annual purchases of over $2 Billion. At the new location on N. Houston Rosslyn Road, Scholl Forest has built a very low cost, low overhead facility to ensure our customers get the most competitive prices and unsurpassed customer service. As a result, Scholl Forest remains an industry leader in the local custom builder market and nationwide multifamily market. After 6 generations of lumber selling experience, you can truly say it's in our blood!

Seventh Generation – To be continued…
Sign up for our Email List
Stay updated with all our latest posts, products and offers! Just enter your information below.