---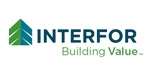 Interfor Lumber Products
Wood is simply a better building material. Builders and architects around the world prefer wood products because of their beauty, versatility, energy efficiency and cost-effectiveness. With one of the broadest lumber product lines anywhere, we've got you covered from framing right through to finishing. Our products are sourced from Interfor's reliable, sustainable fiber supply and are of consistent high quality. We work directly with you to identify the right species and products for your needs.
Follow Interfor Lumber Products Online
Want more information on Interfor Lumber Products? We can help.
Fill out the form below and we'll get in touch. The fields marked with, *, are required.